Delve Deeper with Dune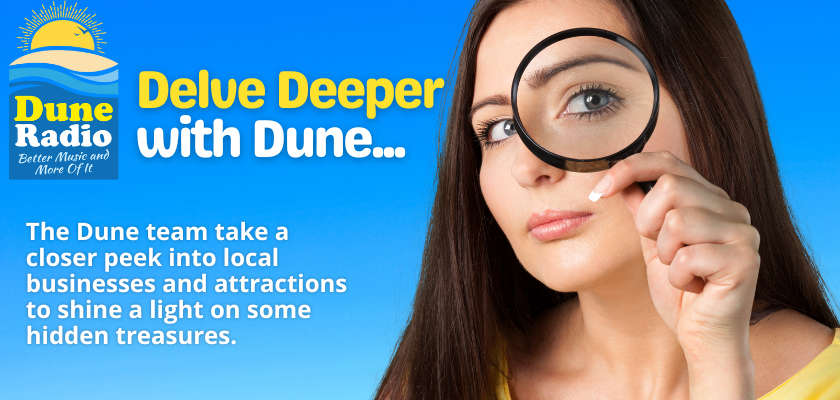 Hickory's Smokehouse, Folkestone Road, Southport
Having been invited to try out their new cocktail menu recently and sampled a little of their food, our Breakfast team jumped at the chance of enjoying a full meal at Hickory's Smokehouse in Southport. Keen to review from a family perspective, Andy took along partner Sorcha and little Elvie and Hayley brought husband Jordan and their son, Paddy.
Arriving at Hickory's the first thing that hits you even before you get inside is the incredible aroma. Straight away you can almost taste the deliciously seasoned meats as the char grilled smell wafts towards you and draws you in. If only they could bottle it and sell it, they wouldn't need to clean the plates!
The exterior of the venue is welcoming with strings of festoon lighting draped over the entrance and cosy looking cabins dotted around the large beer garden area.
As we stepped through the door we were met with the warmest of greetings from Dan, one of the managers at Hickorys Southport, and he showed us to our table.
The menus appeared and were like nothing we've ever seen before, printed to appear like newspapers, the quirky design and style just adds to the 'Hickorys experience'
We were eager to begin so took no time perusing the menu and quickly ordered a round of drinks and some starters.
Straight away Elvie spotted the delicious range of milkshakes and opted for the Biscoff flavoured one, which came complete with a Biscoff biscuit.
For the starters it was hard to pick so we decided to choose several items from the appetisers menu and share them between us. We opted for the cheesy giant pretzel which was just divine and if you're looking for something to tickle your taste buds then we have to say that the smokey bourbon bacon bites were simply incredible and of course we had to try the delicious corn dogs, each topped with a mini American flag. They were delicious, really delivered on flavour.
There's a great choice of meals for your mains and we'd say something to satisfy all tastes. Andy being Andy had to have a burger, and when it comes to burgers Hickory's have it covered and then some, as we found out when Jordan ordered the 'Go Big or Go Home' Burger ... it was gigantic!!!
Hickory's loves children and offer a fantastic kids menu. Paddy had Mac n Cheese which he loves anyway and this was Mac n Cheese Hickory's style. It looked so good, Hayley had to try a bit (obviously just to check Paddy would like it wink wink). Elvie opted for the hot dog. The kids menu is very reasonably priced for the size of the portions with each starter around £3-£4 and each main around £6-£7.
The starters are amazing on their own and the burgers are fabulous but if you want a true taste of what Hickory's is all about then you have to try some of the smoked meats. The full rack of ribs quite honestly, tasted out of this world. We all commented that they were the best ribs we'd ever tasted.
After our meal the children were invited to try and make their own milkshakes at the bar. Paddy had a great time mixing his and enjoyed getting to drink it even more. Hickory's also has a small cinema showing children's movies. The kids can go in on their own leaving the adults to enjoy their meal - quite tempting!
Before we left, Andy and Hayley were invited into the kitchen to meet the team and to see where the magic happens. We were shown the incredible smoker and we were told every Hickory's has one and each one is imported from America especially. Again the aroma was literally sensational and we could have stayed there all night!!
Overall we had an amazing few hours at Hickory's Smokehouse in great company, in really comfortable and warm surroundings PLUS we had some really delicious complementary popcorn a MUST when visiting Hickory's!
The restaurant itself is very accessible and the team will go above and beyond to cater for every customers individual needs.
We've already planned to go back again. INCREDIBLE !!
Churchtown Deli, Botanic Road - Wine & Cheese Evening
The medieval village of Churchtown has a charm that is both infectious and unique. Whitewashed thatched cottages, beautiful pubs and the stunning Botanic Gardens provide a quaint escape from the hustle and bustle of the high street. Churchtown is also home to an increasing number of quality independent businesses, including Churchtown Deli which sits at its heart on Botanic Road.
Churchtown Deli is owned by the irrepressible Gilly. Gilly's enthusiastic passion for wine and cheese led to her buying the business after a long career in the pharmaceutical industry. The Deli offers a huge range of wines, beers, cheeses and all manner of treats and 'picky bits' but they also host popular regular events. Gilly invited us along to experience one of her famous 'Wine & Cheese Tasting' nights and we sent our Commercial Director Sammi along with her husband Paul to find out what it was all about.
"When Dune asked if I would go along to Churchtown Deli to sample some wine and cheese, I didn't need to ponder on it for very long - it was an emphatic 'hell yes!' Paul and I arrived at the given time (6.30pm) and was greeted by Gilly, our friendly host. She showed us to a table and explained that there would be three parties of two and a table of five for the evening - a large enough group for a little atmosphere but small enough to still be intimate enough for everyone to ask as many questions as they liked. The other 'tasters' arrived shortly afterwards and the event began.
On the table there was a selection of nibbles to enjoy between tastings. Gilly explained that the nibbles were all chosen to compliment but not compete with the wines. We had mixed olives, thick cut crisps, lightly salted crackers and a delicious hummus dressed with pomegranate oil.
Gilly ran through how the evening would flow and gave each group a list of the wines we would be tasting, it was going to be a blind tasting so we had a section to make notes and have a guess at which wine was which. And we were off!
We worked our way through three superb white wines and three wonderful reds all of which are available to buy from the Deli from around £11 a bottle. Gilly provided tasting notes on each wine, guiding us on how best to appreciate them. With each wine we were presented with a canapé that had been specifically chosen to match the grape and encouraged to savour how the taste of the wine altered with food. Unlike other tastings I have been to, Gilly also explained all about the cheeses we were presented with; where they were made, how they were made and even their celebrity connections (the time that singer Pink had a brie wheel thrown to her on stage from the audience for example!)
The wine servings were quite generous with plenty of top ups and when it came time for the 'Big Reveal' (after the sixth and final bottle) we were all a little merry! The results were in and Paul and I got every single wine wrong, but at least we were consistent!
As the evening drew to a close Gilly expanded a little more about the shop as some of the tasters had never been before. She makes the most wonderful paté with port and offers an amazing service where you can bring your own serving dishes and she will fill it with freshly made paté for you to take home and freeze until needed. She also provides superb cheeseboards (hire her boards or she will fill your own) ideal for Christmas get-togethers or dinner parties. The Deli also offers a handy bespoke Hamper service, perfect for gifts.
As we wobbled to our waiting taxi we left a happy gaggle of tasters clutching their purchases after a really lovely evening.
The Deli is on a completely flat level. There are accessible toilets in the Bold Arms across the road available to tasters via an existing agreement.
Other events at the Deli include Bubbles nights and Gin & Rum Cocktail experiences. The Wine & Cheese evening is priced at £28 per person.
For more information on Churchtown Deli and upcoming events please click on the link above
Rufford Old Hall - Bat Walk
We were invited to try out something completely different recently – The Bat Walk at Rufford Old Hall. Being the adventurous type, Andy jumped at the chance and took along partner Sorcha and her little girl Elvie for good measure. Rufford Old Hall is near Ormskirk and is a fine Tudor house and colourful garden, home to five centuries of Lancashire and Hesketh family history.
'We were delighted to attend this event as it is something quite unusual and we were excited as we arrived at the venue early evening. The sun was still shining and it was pleasantly warm.
On arriving at Rufford Old Hall the grandeur of the house reveals itself like a fine painting as you make your way up the path and into the beautiful courtyard.
A gaggle of fellow 'walkers' had congregated on the path and we received a warm welcome from the friendly team. We were offered a choice of hot drinks and a delicious homemade cookie to nibble on as we prepared for the evening ahead.
Once in the courtyard we were greeted by other members of the team including the fabulous Charlie who, for all intents and purposes, is Rufford Old Hall's very own 'Batman' (although we didn't spot his cape!)
As we and the other members of the public that had ventured to the hall that evening hoping to spot the flying mammals, finished out refreshments Charlie began to explain what we should be looking out for and listening to as we make our way around the grounds.
We were also given a bat monitor radio which is set to the frequencies at which we would be able to hear the bats as they go about their nightly business. Radio being my passion I was delighted to have this little gadget and couldn't wait to try it out.
Before we headed off as one group, we were also introduced to Rufford Old Hall's resident 'Moth Men' - they take a great interest in the variety of moths found around the grounds of the hall and they guaranteed to have some delightful finds ready for us when we returned from our bat hunt.
We headed off into the grounds on the path running parallel with the Leeds Liverpool Canal. As we walked, Charlie explained to the group about the different species of bats as well as other nocturnal animals and mammals we might come across.
Once we got to the far end of the grounds we suddenly heard a distinctive clicking sound coming from the Bat Monitors as several bats started whizzing around the trees above our heads. It was fascinating to see.
After watching them for several minutes we then made our way back towards the house and around the front part of the hall where Charlie pointed out to us where one of the main roosts in the building is located.
We stood for a good 10 minutes watching and listening to the bats as they came and went. Charlie continued to provide us with some really interesting information regarding the bats as well as past experiences of bat hunting at the hall.
We then headed off into the woods on the opposite side of the hall and walked a circular route back around to the car park. Along the way we heard and saw many bats darting about, busily getting on with their bat business.
Back at the courtyard we were met by 'The Moth Men' again who, with the help of their perfectly humane moth trap, revealed to us some of the wonderful and beautiful species of moths they had found that evening.
In total we spent around two to three hours at Rufford Old Hall on the Bat Walk and I've got to say it was much more enjoyable than I had initially expected.
I certainly learned a lot and would say all members of the family, young and old would enjoy the evening. Charlie quite rightly said 'each bat walk they do is completely different' - a great evening really was had by all and I'm already looking forward to doing it again.'
The venue has no Bat Walks scheduled at the moment but there will be more. In the meantime Rufford Old Hall hosts lots of other amazing events. Coming up there's the Scarecrow Festival. The theme for 2023 is Myths, Legends & Fairy Tales giving everyone the opportunity to delve into favourite childhood stories and take a look at local Lancashire myths and legendary stories. The trail will run from 20 October through to 5 November.
In terms of accessibility there are pathways around the grounds, some more even than others which lends itself to the nature of the hall's natural surroundings, especially in the woodland area. Designated mobility parking spaces are located close to the entrance. Wheelchair access is restricted in the house. Self-propelled wheelchairs can access the ground floor and the Great Hall. Electric wheelchairs and mobility scooters can only access the Great Hall. Please note there are a number of stairs to the first floor. An adapted toilet can be found in the cobbled courtyard.
Click on the link above for more information
Crave Pizza, Town Hall Gardens, Lord Street
Crave is a brand new pizza joint right smack dab in the centre of Lord Street. It occupies the former Remedy building in front of Southport Town Hall but what it offers is a far cry from its previous incarnation. Crave is a unqiue concept to Southport and was inspired by the owners many trips to New York and the magnificent pizza he enjoyed there. We sent our Commercial Director Sammi and husband Paul to see what Crave is all about.
"Crave is housed in a building that is essentially mostly glass, a bit like a conservatory, and this makes for an excellent spot to people watch on the bustling Lord Street. Not only do they have some comfortable bench seating inside with lovely etched wooden tables but they also have an amazing outside dining space with a variety of rustic picnic tables and 'hut' type seating areas. There's also a stage area where they plan to have outside entertainment in good weather.
Inside we met Matt the owner and some of his excellent team. He talked us through the process and also, what the differences are between the different types of pizza. New York style is a crispy thin crust laiden with yummy toppings, the kind you have to hold with both hands to get it to your mouth! Chicago is a traditional 'pizza pie' it has a thicker base but not dry and stodgy like some UK 'deep pan' style pizzas. The sauce and toppings are arranged carefully so as to not soak the base. Lastly there is Detroit style pizza - these were completely new to me, and had a fascinating back story. Detroit style pizza was originally baked in the 1940's in rectangular trays designed for use as automotive drip pans or to hold small parts in factories. The toppings and cheese are layers on the base BEFORE the sauce and it's famous for it's baked cheesy crust. The pizza is displayed in a chilled cabinet so that you can see exactly what you are choosing. The idea is to pick a slice or two, pay and they will whisk it away into the kitchen where they add a few extra finishing touches and then pop it in their massive pizza oven.

We chose a selection to try - sausage Chicago style, Meat Feast New York Style, and Pepperoni and Garlic & Cheese, both Detroit style. Prices per slice range from £2 for the garlic bread up to £4.50 to the Classic Sausage Chicago style. They have a selection of dips to dunk your crusts in too for 40p each, we went with Garlic Mayo and Hot Chili. They also have nachos, coleslaw and salad bowls but we were all about the pizza! They have a special offer on at the moment which means you can choose two slices of New York Pizza OR one slice and a drink for just £5. They're licensed and offer a wide range of soft drinks and alcohol. I went for a bottle of fruity cider while Paul had a bottle of Desperados beer.

It wasn't long before plates of steaming hot pizza appeared at our table and the smell was amazing! We shared all of the slices so that we'd both tried all of them. It really is hard to pick a favourite as they're all so good and also so very different. The tomato sauce on the Classic Sausage Chicago style was unbelievably good and the base, though thick, was light and moist. Apparently they make all the tomato sauce themselves from scratch. The New York Meat Feast was exactly how you would imagine - stringy cheese, crispy base that's just strong enough to hold all of the generous toppings but still bendy enough for that true New York two handed pizza nibble. The Detroit ones were the biggest surprise though, the sauce on the top and the caramalised cheese crust were phenomenal and really quite different to any pizza we've had before. The little dips were just right too, one cool and one hot - just enough for us to finish off all the crust. The whole process is quick and efficient and, with the prices being as they are, if you want another slice all you have to do is point, pay and enjoy!

Crave has flat access at both entrances, with extra wide doorways suitable for wheelchairs. There is also an accessible toilet.

For more information about Crave click on the link above
Crystal Clear Opticians, Sussex Rd, Southport
We love the opportunity to discover more about local businesses and was delighted to be invited to visit the team at Crystal Clear Opticians. We have heard great things about them and we were not disappointed.

The first thing to note is that with the shop being out of the town centre, it's really easy to get to with lots of free parking close by. The shop itself is bright and cheery with a main reception/optical display area and then a couple of consulting rooms off a small corridor. Andy our breakfast host has never had his eyes tested before (shock!!) so he was more than willing to hop into the optometrists chair and take one for the team. He also brought along one of our Diddy-Dune's, Elvie, who does wear glasses for schoolwork.

Marta and Paula were very friendly and welcoming and quickly arranged for Andy to go through to see Neil the optometrist. There was a free pack of bubbles for Elvie while she waited patiently. Nice that they know how to keep the little ones happy. Neil was friendly but thoroughly professional and explained every part of the process to Andy, checking on his overall health and how any problem with his eyes might be causing other issues. Thankfully Andy was given a clean slate. He has a slight prescription but not one that necessitates wearing glasses - yet!

Crystal Clear also offer an ear wax removal in association with Hart of Hearing. As we were there anyway, Andy took the opportunity to have a quick ear check - also something he's never had done before. Duncan explained that he has two main methods of removing wax build up: micro-suction would be his preferred option as it doesn't involve filling the ear with water and is less invasive, however he does also carry the 'syringe' type equipment for removal with pressurised water if needed. First things first though, Duncan did a thorough examination of Andy's ears to see if there was a problem to be addressed and fortunately for Andy there wasn't. We're sure though that Duncan would have been able to troubleshoot any problems quick smart with his impressive tool case.

Crystal Clear charge £25 for a sight test or contact lens check (which is the same as Specsavers and actually less than Boots) and for that you do get truly personal service. They also offer a number of aids for people with low vision issues, some on a loan basis. If you did need glasses they have a super range of frames to choose from with full glasses from just £44.95 and some really stylish sunglasses too.

Duncan charges £60 for both ears in the shop and he also does home visits for £65 which is particularly helpful for anyone who would find it difficult getting to the shop.

Crystal Clear has a mobile ramp with hand rails to the front and all of the services are on a flat accessible level.

For more information or to make an appointment click on the link above
The Imperial is a warm and welcoming dining pub on Albert Road in Southport. With a fantastic beer garden to the front and modern, classy décor inside, the Imperial holds an imposing corner position close to the town centre and just around the corner from Hesketh Park. Whether it's a family meal, group of friends, working lunch or even a big celebration, The Imperial has been welcoming locals and visitors for many years.
The Imperial has a great selection of pub food available seven days a week, serving dishes for those looking for a hearty meal, traditional fish and chips, lighter salad, selection of small plates or vegan option. We sent our Commercial Director Sammi along with husband Paul to try their breakfast menu which is now served seven days a week from 9am.
"Paul and I know the Imperial really well as it's actually our 'local'. We come here as a couple and with various groups of friends, it's our 'go to' for gatherings large and small and we've always been delighted with the fabulous food and friendly service. We haven't visited for breakfast before though so we were more than happy to come along and test drive it for you.
On entering the Imperial, the first thing that hits you is the sheer number of different dining areas there are. There is literally something to suit everyone - from high tables with comfortable high bench seating by the bar to intimate booths, from areas with a sports bar vibe to sunny window seats suitable for small groups. The décor is really lovely and each area has a different look and feel. I was especially taken with the bird themed end of the pub – the wallpaper depicting lots of colourful birds and even bird cage style light fittings adorned with beautiful silk birds.
We chose a table next to the fireplace and studied the breakfast menu eagerly. There's plenty to choose from including Full English, Eggs Benedict, breakfast sandwiches, scrambled eggs and even cheesy beans on toast! We both plumped for the Full English which comes with two each of sausages, bacon, fried eggs and hash browns plus beans, black pudding, grilled tomato and mushrooms with your choice of white or wholemeal bloomer toast, tea, coffee or fruit juice for £8.95. For an extra £1 you can enjoy unlimited tea and coffee.
Our drinks came quickly, we both had black coffee which came in a very generously sized bright red mug. We also chose to have fruit juice as well, I went for Orange and Paul, Cranberry. While we waited for our food I noticed a very large table of people who were happily chatting and laughing. I asked them what the occasion was and apparently the family had all come together the night before for a big party to celebrate a joint 70th and 80th birthday. Not wanting to miss the opportunity, they decided to have breakfast together before family members travelled back to their homes around the UK. We wished Barbara a happy 70th, Lawrence a wonderful 80th and as an extra celebration - Tina was celebrating becoming 21 (again!) This effectively illustrated how well the pub caters for groups and parties.
Our food arrived very promptly and we both dug in. I went for white toast and the bloomer bread was thick, fresh and delicious. Paul was delighted with the black pudding as it was from Bury, quite close to his home town. The whole meal was hot, fresh and delicious – Paul cleaned his plate but I didn't quite manage to finish mine as I was truly stuffed. I don't know where they buy their sausages but they were really tasty!
It occurred to me as I was looking around that the venue would be an ideal place for working breakfasts or breakfast meetings. There's ample room, lots of tables and also loads of electrical sockets that even have USB ports – great for charging laptops, phones etc. Plus with the unlimited option on coffee, you would have something to keep you going! We spoke to Dan the Manager before we left and they can actually supply screens with a little notice so that you can make presentations too. With lots of parking and being so close to the town centre, I would definitely consider using the Imperial next time I have a meeting to organise.
It's not all about eating and drinking at the Imp either, they hold numerous charity events throughout the year including a monthly Car Boot Sale. It happens on the car park on the last Saturday every month (so this Saturday 29th July) all of the takings from the pitch fees go to charity and I don't know about you, but a mooch around the booty followed by breakfast sounds like a perfect Saturday morning to me!"
The Imperial is easily accessible and has a ramp up to the front door. There's plenty of seating on the flat level and they have an accessible bathroom.
For more information on the Imperial, please follow the link above to their Facebook page or >here< for their website.
Morris Dancers (Beefeater), Scarisbrick
Having already sampled the main menu, our Commercial Director, Sammi, and husband Paul were delighted to me invited back to the Morris Dancers to try their midweek, daytime menu.
"Served Monday to Friday from noon until 5pm, diners can choose from a fabulous selection of meals and at £11.95 for two courses or £13.95 for three, it's tremendous value too.
On entering the restaurant, we were once again struck by how cosy and welcoming the place is. Lots of warm toned furnishings and even a knitted cow make for a calm and relaxing place to eat.
After studying the menu for a few minutes we took our pick of the food and drinks and sat back in the generous leather clad booth we had been ushered to.
Drinks arrived swiftly and as I had been so enamoured with the Watermelon Sugar 'Mocktail' on our last visit, I chose another of the virtuous soft drinks, this time opting for the tropical sounding 'Cuddles under the Sun'. It was a delicious combination of passion fruit and orange juice with a generous slug of Grenadine and some big juicy glace cherries. The Mocktails are a super alternative to fizzy drinks for anyone not driving and, due to the location there would usually be at least one driver per party. The Mocktails are very reasonably priced too – the Cuddles under the Sun was just £2.60. Paul wasn't going to faff with glace cherries so he went with a Doom Bar Shandy at the suggestion of our server, he loved it – hadn't had a shandy for years and found it really refreshing.
We'd decided to go for the two courses so our chosen starters came shortly after the drinks. I had plumped for the '74 signature double crunch chicken wings with BBQ sauce – the wings were satisfyingly crunchy and I gnawed my way through them like some kind of cavewoman! Paul had chosen the Cauliflower Popcorn with BBQ sauce – it was fresh and tasty and the BBQ sauce was sharp and zingy!
For the main course Paul chose the fish and chips. He went for the Haddock upgrade (£2.49 supplement) and paired it with chunky chips and mushy peas. When it arrived we thought that someone had landed Moby Dick – the fish was huge! The batter was amazing too, really fresh and crunchy. The fish itself was lovely and flaky and everything was piping hot. My main was 5oz Gammon Steak with a pineapple ring, chips and garden peas. The gammon was cooked on a griddle and tasted delicious. You have the option to upgrade to a 10oz gammon steak for an extra £2.49.
We didn't plan on having a pudding but our friendly waitress managed to twist our arms into ordering one to share and we went for the chocolate brownie with ice-cream. It was really lovely and a nice way to end our meal.
Between eating and chatting I spent most of my time watching what was going on around the restaurant. I eat out often, and what makes this place stand out is the service, it is exemplary. The staff are so friendly and seem to have all the time in the world to stop and chat with the customers. It was really wonderful to see and I am sure that's why they have such a loyal customer base that return time and time again.
They have a room that can be used for weddings, funerals and also meetings and training courses such as first aid. They have a projector and screen and of course, some excellent on site catering!
Once you've finished eating, you can try your hand at the Charity Tombola in aid of Great Ormond Street Hospital, there's lots of fabulous prizes and such a good cause too.
The restaurant has flat access for those with mobility issues and an accessible toilet, again on the flat. There are areas up steps but plenty of seating on the flat portion of the dining room. They have a hearing loop and braille menus available.

Outside the restaurant there's a large area with picnic tables making it an ideal spot for something to eat in the sunshine. As the outdoor area is at the back of the building it is away from the main road too.

Once again we had a lovely time at the Morris Dancers – it's taught us to explore more of the wider area as there are little gems like this all over."

For more information about Morris Dancers click on the link above.
Morris Dancers (Beefeater), Scarisbrick
The Morris Dancers in Scarisbrick has been a Beefeater restaurant for over forty years. It's only a few minutes drive from Southport and we sent our Commercial Director Sammi and her husband Paul along to sample the food.
"Despite living so close, we've never actually been to the Morris Dancers and was really surprised how cosy and welcoming it was when we walked through the doors. We were greeted by Elizabeth who showed us to a comfy booth table with a super view of the open kitchen.The kitchen team were busy and happily getting on with the serious business of cooking and there was a lovely relaxed buzz in an unexpectedly busy restaurant for a Thursday evening.
We selected a main course from the menu - Paul chose the mixed grill with Sirloin (£18.49 + £5.99 supplement for the Sirloin) and I plumped for the '74 House Stack Burger (£15.49). Drinks first though and Paul went for a pint of Doom Bar amber ale and as I was driving, I had a bottomless diet coke.
Drinks arrived swiftly and as we waited for the food we listened to the happy chattering from groups of people enjoying their evening. Sited next door to a Premier Inn, they no doubt get quite a lot of people that are staying there coming for food but also there were little pockets of family groups having celebratory meals, couples, families with young children - a really great mix which made for a super atmosphere. We also listened to the staff as they went about their work and they were all friendly and unhurried with the guests which was nice to see. Apparently some of the staff have been there for over 25 years and that comes across in the care and attention we saw.
Our food arrived and Paul didn't delay and dived straight into the massive mixed grill. He said that everything was delicious - hot and tasty. The mixed grill usually has grilled mushroom and tomato on it but Paul asked for those to be left off. I couldn't resist having a taste of one of the fabulous looking sausages - it was amazing! I had spotted blue cheese sauce as an option for the steaks so asked for that with my burger and it was yummy. My burger was great - two meat patties plus bacon and all of the usual extras. The chips were chunky, steaming hot and very good. The coleslaw was fresh and tasted homemade.

Elizabeth tempted us to a dessert and Paul, being a massive cheesecake lover, went for the Cadbury Crunchie cheesecake (£6.99) it was a proper New York baked cheesecake and totally delicious. I went for hot cookie dough & ice cream (£5.99) which was drizzled with chocolate sauce. It only looked to be a small portion when it arrived but gosh, it was filling!

Paul had a second pint of Doom Bar and as I had spotted some interesting looking Mocktails, decided to go for one of them. The waitress recommended the Watermelon Sugar so I had that. It was amazing! Really refreshing and a lovely alternative to an alcoholic drink if you're driving. Handy as due to the location at least one person per party is likely to be the designated driver.
Before we left, Jack and Elizabeth showed us their extension area. This room can be used as an overflow for when the restaurant is busy (they were expecting around 350 diners on Father's Day!) or can be booked for private events. They host weddings, funerals and also meetings and training courses such as first aid. They have a projector and screen and of course, some excellent on site catering!
The restaurant has flat access for those with mobility issues and an accessible toilet, again on the flat. There are areas up steps but plenty of seating on the flat portion of the dining room. They have a hearing loop and braille menus available.

Outside the restaurant there's a large area with picnic tables making it an ideal spot for something to eat in the sunshine. As the outdoor area is at the back of the building it is away from the main road too.

We thoroughly enjoyed our time at the Morris Dancers and wouldn't hesitate to revisit. It's amazing what super venues we have almost on our doorstep - we just have to make the effort to explore more!".

For more information about Morris Dancers click on the link above.
Chocolate Whirled, Manchester Road
The guys at Chocolate Whirled have generously provided a clutch of their XXL Easter Eggs to give away in our Easter Competition for a number of years. Magnificent though they are, they're only as small part of what lurks inside this wonderful building. Although it opens as a shop and cafe one or two days each week, offering a cornucopia of chocolate goodies, milkshakes, ice creams and lots of other treats, the bulk of the magic happens deeper into the building in their well-appointed kitchen. Chocolate Workshops are offered to children, families, friends and groups under the patient and professional supervision of owners Laura and Simon.
Having heard rave reviews about the workshops, a gaggle of Sandgrounder Radio presenters, staff and family set out to discover what the fuss was all about. The Magnificent Severn were: breakfast presenter Hayley, husband Jordan and little Paddy, presenter Sorcha and daughter Elvie and Commercial Director Sammi and husband Paul - so, a real mix of ages from 20 months right up to 56 years old.
Before we headed to the kitchen we took a moment out of the sunshine to cool down with a delicious milk shake. There were lots of flavours on offer but the majority were split between classic chocolate and mint choc chip. Once refreshed we were ushered into the kitchen area where Simon and Laura gave us a run down on what would be happening while supervising us popping on rather attractive blue hair nets and aprons before thoroughly washing our hands.
Laura and Simon talked us through creating three chocolate treats, all of which we would be able to take home. We started with a lollipop and could choose which pattern we would like to have printed on one side, and whether we wanted white, milk or dark chocolate. Paul and Jordan (both serious chocolate fans) were thrilled when our hosts explained that it was bad form to waste chocolate so whatever was left at each stage could be guzzled on the spot. Little Elvie had chocolate from ear to ear almost from the word go and Paddy was enjoying licking out the mini-bowls of warm running chocolate.
Next up was a bar of chocolate. We could design our own pattern which would be picked out with one colour of chocolate and then enveloped by a contrasting colour. Paul picked a rather technically accurate drawing of a train, Sammi chose a floral design and others varied from names and writing to abstract patterns.
Last up, Simon announced that we would be making chocolate pizzas. Hearing the words chocolate and pizza in the same sentence almost had Paul fainting with happiness. Pouring the molten white chocolate as a base we then added grated 'cheese' chocolate before decorating with sweets and tiny cubes of fudge.
All the way through the workshop three machines quietly worked in the background tempering the chocolate, rivulets of glistening liquid gorgeousness swirling up and around - it was quite mesmerising to watch. In fact, at one point we thought Jordan was in a trance!
To say that we enjoyed our experience was an understatement - we had an amazing time. Laura and Simon were thorough, patient and entertaining and we found the whole process completely fascinating. Leaving the shop clutching our brown paper bags filled with chocolate created with our own hands, we were bubbling with excitement.
The workshop we attended was their Traditional Family Workshops, although it was slightly shorter for us as little Paddy had a birthday party to attend later. Normally participants also get to make their very own hot chocolate stirrers too. Priced at £26.40pp they can accommodate between three and 12 people. There are other types of workshops available too, just click on the link above for more information.
We can totally recommend it!
The Grand, Lord Street - 21st Dec 2022
We sent our Commercial Director Sammi Rudge along to The Grand on Lord Street. As sponsors of our Advent Competition we were curious about one of their advertised Christmas offers …
"My friend and I were booked onto the Festive Bottomless Brunch. I've been twice before for their standard BB and had a fantastic time on both occasions. The festive version is slightly more expensive but well worth it as there were extra 'Christmas' cocktails to choose from and a lot more food! The food was delicious but defeated us unfortunately and we did end up leaving some - but it wasn't for the lack of trying! Food highlights included the Turkey & Stuffing Sliders which came with a little jug of the most delicious gravy! The Breaded Brie with cranberry was also really yummy! We attempted to make our way down the drinks list and managed to get as far as the pink gin! The Mulled Berry Spritz though was our favourite - really refreshing and Christmassy!
Food and drink aside, the venue is simply stunning. Sumptuous, deep buttoned velvet booths, opulent decor in rich blues and gold and an overarching air of classic sophistication. That said, there is a chilled, relaxed atmosphere that attracts an eclectic mix of shoppers, 'ladies that lunch', young families and friends celebrating this and that. This mix of customers makes for a truly comfortable vibe. The inviting winged chairs sit in the huge windows literally beckoning passers by to come in and take a break.
What truly makes The Grand though - the cherry on top of the delicious cake - is the staff. Every single team member we met was bubbling with pride and enthusiasm for their product. Michael is an exceptional host who makes customers feel valued and extremely welcome and Amy, our server yesterday was delightful and fully committed to ensuring we were having a good time.
You needn't worry about 'getting your moneys worth' from the bottomless drinks - they don't let your glass empty even once before popping over and getting your next order. As a guide, we've enjoyed an average of seven drinks each visit. At a conservative £7 per drink that would be £49 at the bar. The festive brunch is £45 and standard £40 - making the very generous small plates provision absolutely free!
Highly recommended and I'm sure to be back again and again."
Signature Bistro, Churchtown - 2nd Dec 2022
Last night we sent our Commercial Director, Sammi, along to Churchtown's newest venue - Signature Bistro, to sample the first night of their evening offer.
Signature opened just two weeks ago and has already gathered a clutch of eager daytime clientele. Open during the day from Wednesday until Sunday, this bright and friendly café holds a fantastic corner location in Churchtown village. Just a few minutes walk from the Botanic Gardens, the venue welcomes muddy boots and paws and serves a selection of drinks, cakes, pastries and hot meals.
At the weekend though, the venue transforms into a relaxed yet sophisticated dinner spot. Open Friday and Saturday from 5pm you can choose from a selection of fine dining dishes including scallops, sea bass and confit duck.
Sammi and her husband Paul dined opening night and were delighted with the experience created by owner Ryan (a very accomplished chef) and front of house maestro, Matt …
"The first thing that struck is is how warm and welcoming the restaurant looks from the street. Its corner location and massive windows makes you feel like it's beckoning you inside.
Once through the door, the decor is an eclectic mix of styles which seems to work very well and immediately puts you at ease. The second thing we noticed was the music - it sounds silly but it's so important to get that right as it sets the tone - and here we had a playlist of 80s and 90s bangers from acts such as The Communards, A-ha, Tenpole Tudor and The B52's. Even before we ordered our drinks we already felt happy and at home.
Our drinks arrived swiftly and in lovely glasses. I'm a bit of a glassware snob and love it when a venue makes an effort above the standard pub offer. We could both have chosen anything from the menu as it all sounded amazing but we plumped for Crab Melts and Garlic Mushrooms to start, Lamb and Confit Duck for our main course and then squeezed in Biscoff Cheesecake and Cafe Gourmand for dessert.
The food - wow! The presentation was superb and the dishes themselves delicious and on a par with the Michelin starred Bistro Verite in Birkdale. My duck was divine. Cooked sous vide, it was perfectly prepared - moist and slightly pink and then pan fried to give the skin a crisp finish.
My sweet, the Cafe Gourmand was, as you'd expect an espresso with an assiette of teeny desserts; a fruits of the Forest cheesecake, red velvet cake and a rich carrot cake. Small though there were, I had to donate half to Paul as it defeated me!
The service was exemplary and we left feeling full and totally chilled. I can see this becoming a very popular destination for a weekend dinner, so advise you make a booking soon!"
Thank you Sammi and best of luck to Ryan and Matt, it looks like you have a hit on your hands!
Andy Hilbert went to shine the spotlight on Xanders Fish Bar on Eastbank Street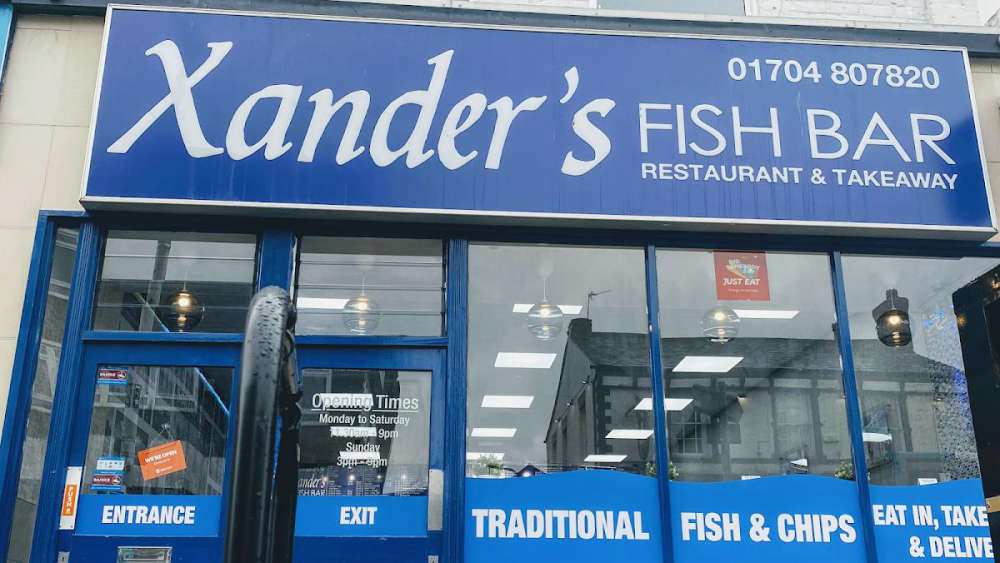 On Southport's Eastbank Street, stands the eye-catching oasis of magnificent food that is Xanders Fish Bar.
It really is a bright, well lit, welcoming sight and on entering you're not only greeted by the delicious aroma of freshly cooked food and friendly, knowledgeable staff but also the delightful site of images from Southport's past.
The wall along the left-hand side of the shop consists of a pictorial montage of some really fascinating images of Southport from days gone by.

I think you'd be hard pushed to find any other business within the Southport area celebrating the history of the town in such an incredible way. We spent ages peering at the images, trying to identify the exact spots.
Danny (the owner) came over and personally welcomed us to Xanders and showed us to one of the spotlessly clean tables.
Every table has well-presented and colourful menus depicting each item available to order. They have a huge range of meals available including a dazzling selection of gluten-free choices!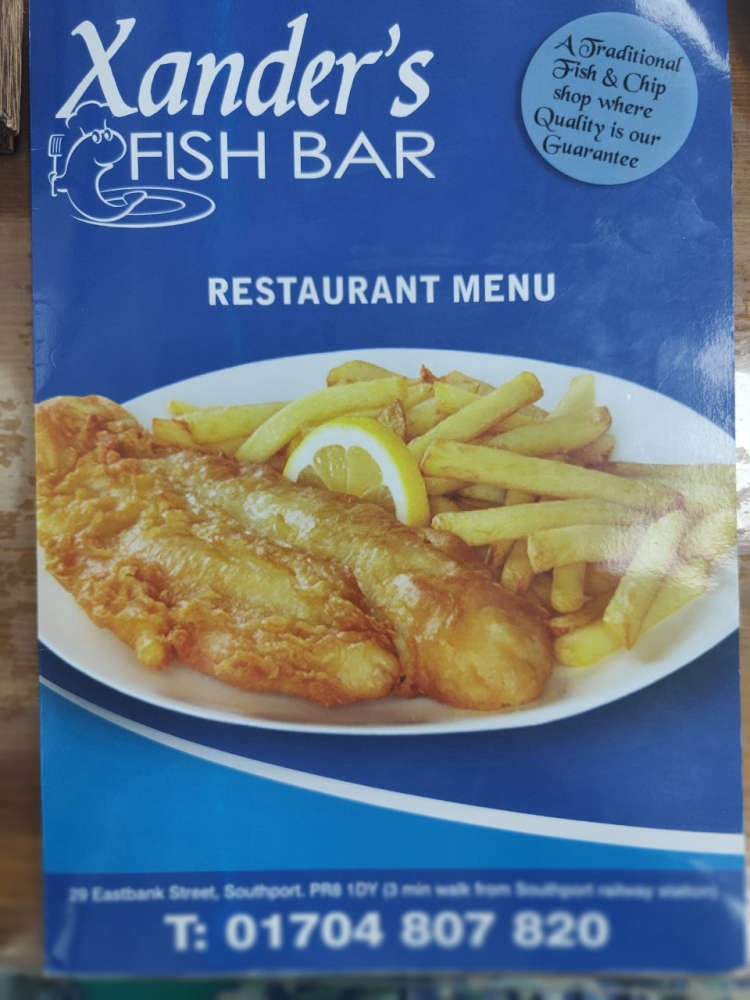 As a party of three we ordered two of the all-day 'eat in' specials which offered a choice of mushy peas, curry sauce or gravy and came with bread and butter and a pot of tea.
I plumped for the steak pudding, chips and gravy, my friend had fish, chips and mushy peas and her daughter opted for a jumbo sausage and chips with gravy.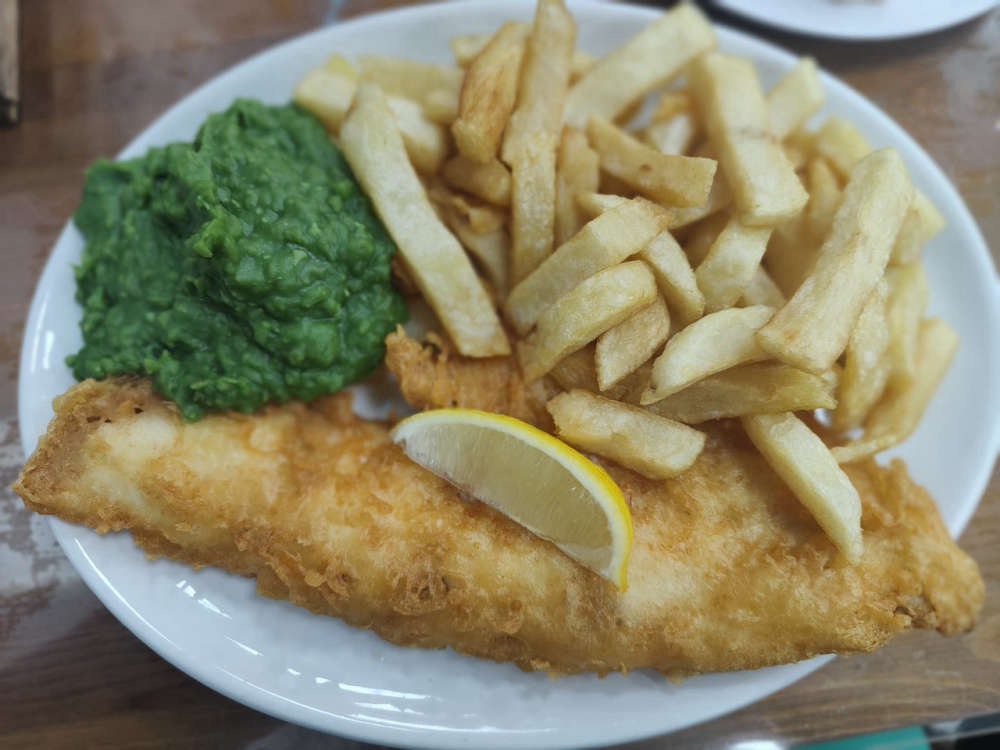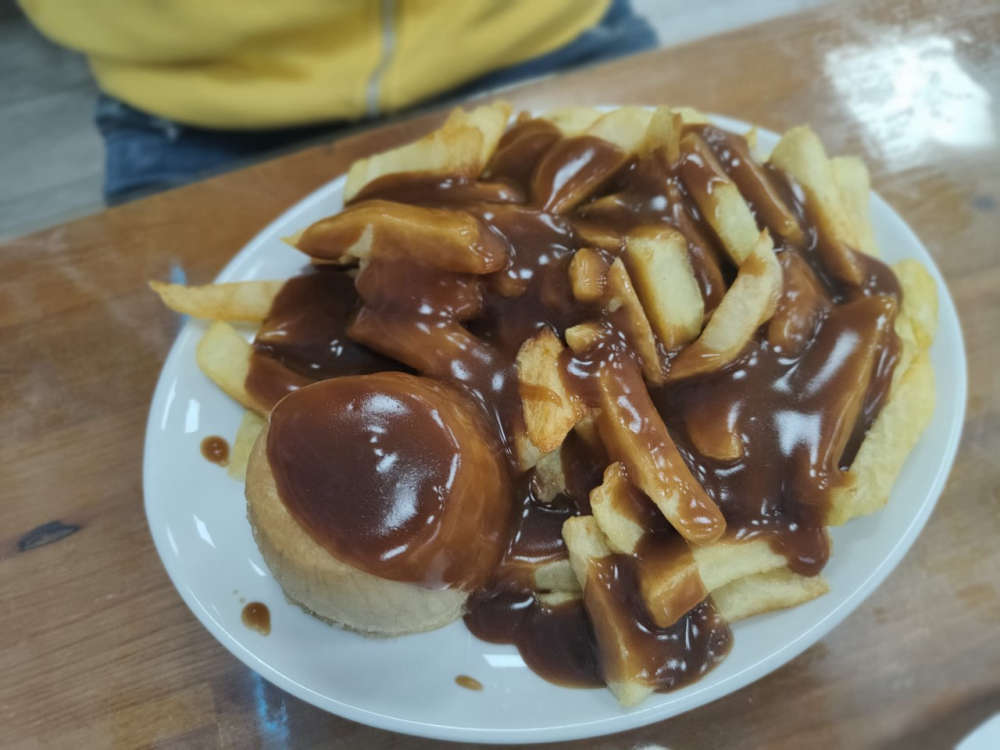 The eat in specials are really good value for money and fantastically good size portions. Even for my healthy appetite!
Wanting to sample as much as possible we also managed to squeeze in some of halloumi fries and a chop suey roll.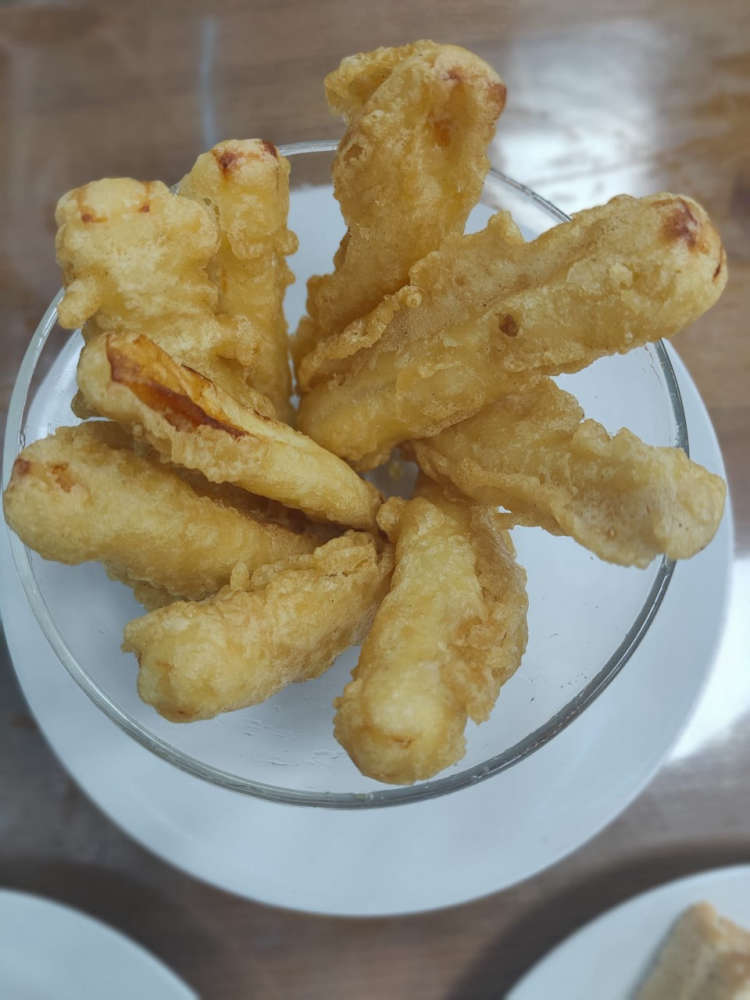 We waited about ten minutes for our meals to arrive, as all the food is freshly cooked to order. We didn't mind waiting at all, in fact there's nothing worse than your food arriving a few minutes after ordering. At least you know its cooked fresh and to perfection, just for you. Plus it gave us extra time to have a closer look at the pictures of Southport's past as they really were fascinating.
The food arrived, it was steaming hot and tasted really fresh.
The chips were cooked to perfection, the gravy was just the right constancy too.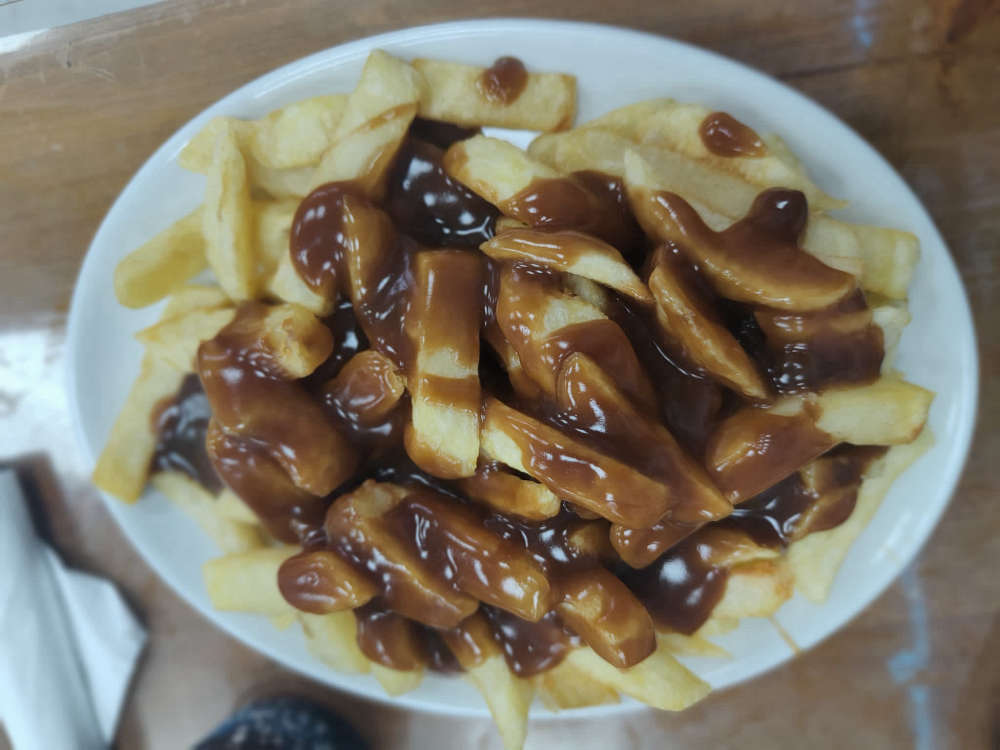 The fish was a taste sensation, fresh and cooked perfectly.
The steak pudding, was hot and again, perfectly cooked
I've tried many halloumi fries (some might say too many) however hands down these were the nicest, freshest halloumi fries I've ever tasted. They practically melted in your mouth with every bite and the batter was light, crisp and golden.
The chop suey roll didn't disappoint and was also perfectly cooked.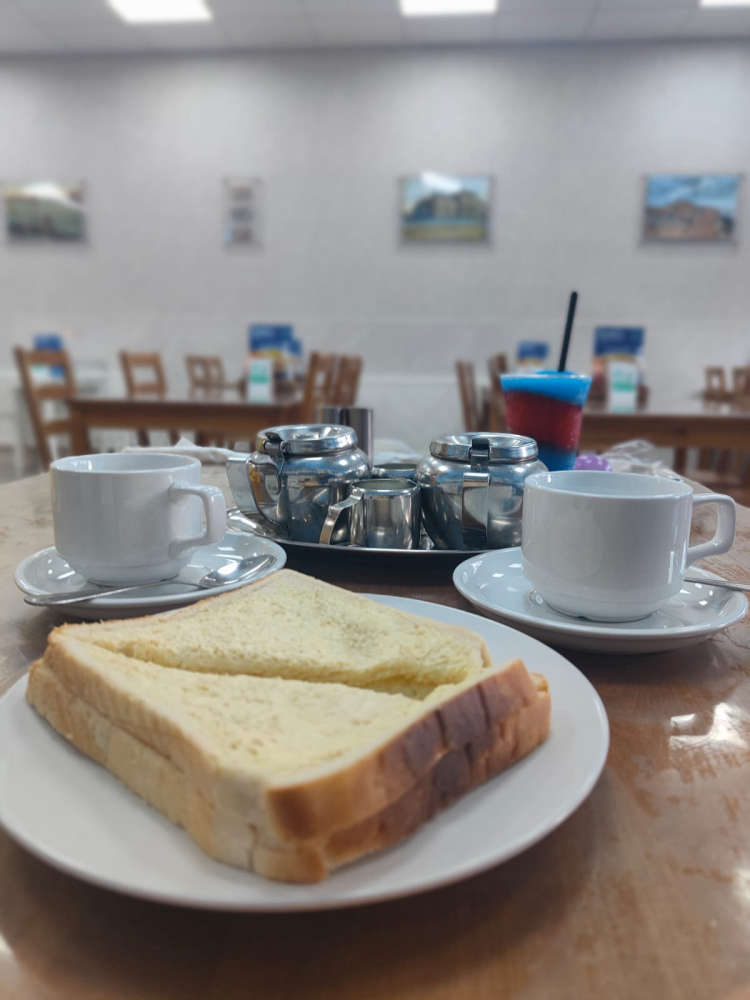 Other than the freshness of the food on of the stand-out's for me was that the price of all the meals and individual items on the menu were all very reasonable.
Out of the many, many chip shops I've been into, Xanders has to be one of my favourites.
Freshly cooked, delicious food, a welcoming and friendly atmosphere too.
I can't recommend it enough
Ten out of ten!!
We had a chat with Danny, the owner, to find out more about Xanders:
__________________________________________________________________
Jacqui Lewis went to shine the spotlight on Grill Hunters, based on Southport's Lord Street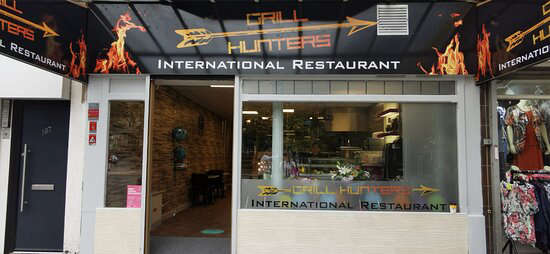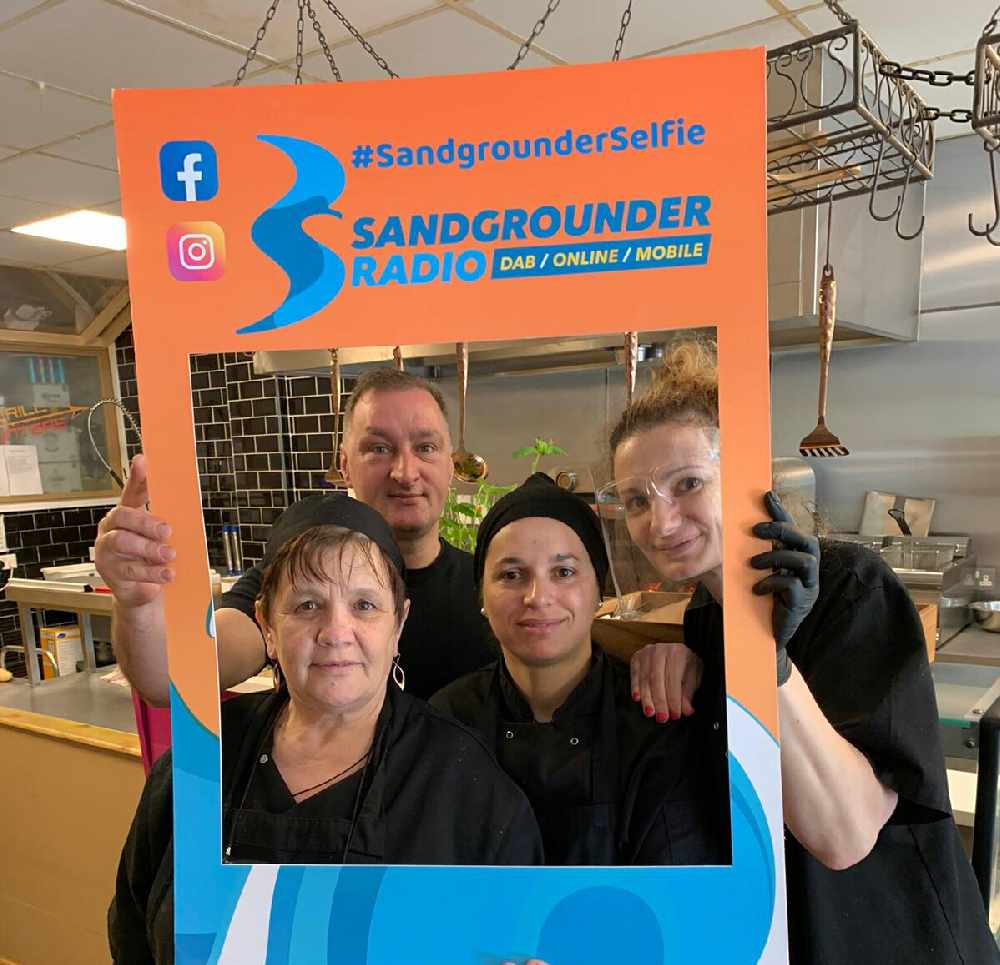 Myself and my Husband Michael were lucky enough to go and sample the amazing food at The Grill Hunters on Lord Street Southport. We were met by the lovely owner Emily who was exceptionally knowledge about the food and explained about some of the traditional Romanian fare on the menu.
There is a wide variety of dishes on the breakfast/lunch menu, which we sampled and an even larger evening menu with some very intriguing speciality dishes along side more usual British style offerings.
Emily worked closely with a variety of chefs from different nationalities to ensure something for all tastes.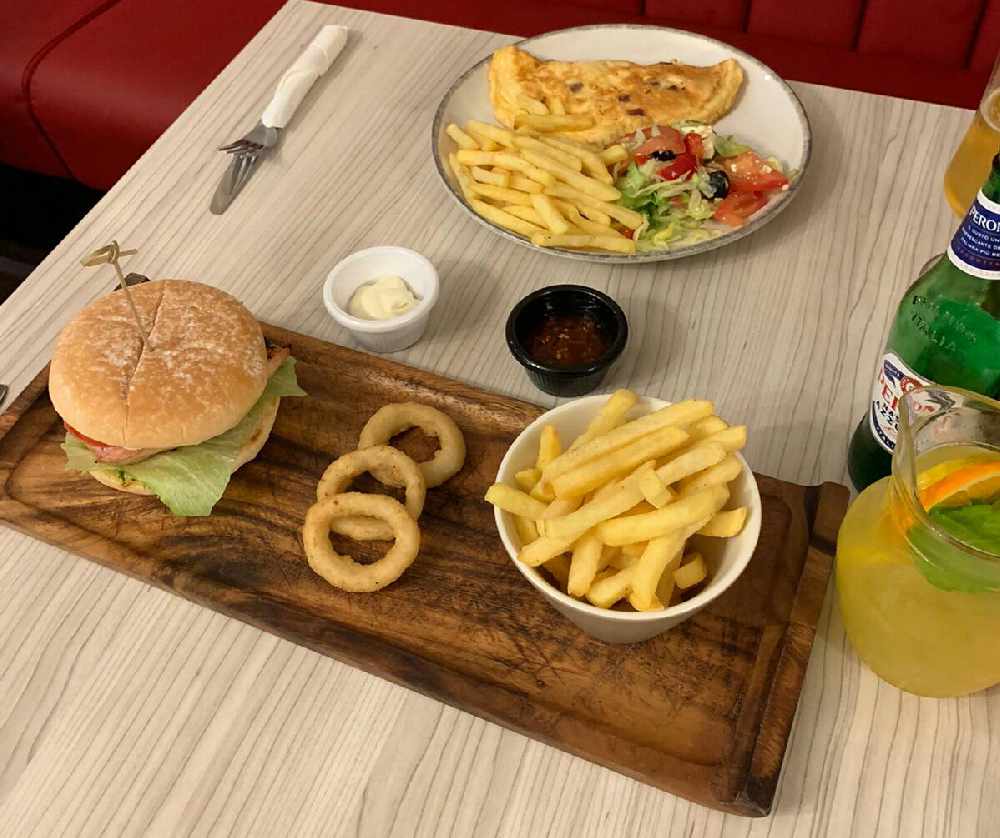 We chose from the lunch menu, Michael had the omelette with cheese and traditional Romanian sausage, which was accompanied with fries and a beautiful salad, all of which was extremely well cooked and very fresh. I had the grilled chicken burger with onion rings, fries, mayonnaise and sweet chilli sauce.
All the meat served in the restaurant is freshly prepared and cooked on the grill in an open kitchen , with fresh herbs decorating the kitchen for a very pretty and practical effect.
The chicken was very juicy and perfectly cooked, the fries have a dusting of a very flavourful seasoning and the accompaniments were delicious ( I only got one onion ring as Michael wolfed the other two down! ).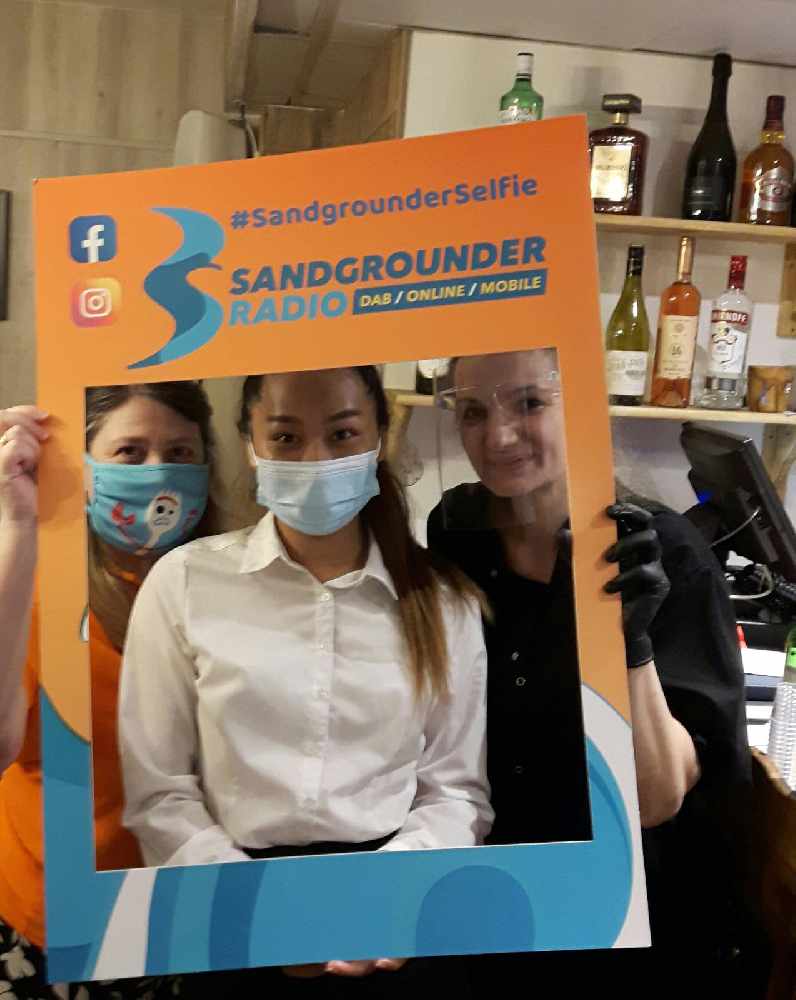 All the staff were friendly and courteous and they even sent over a special portion of the traditional Romanian sausages for us to try after an interesting conversation about their traditional dishes.
There was a wide variety of alcoholic and non alcohol drinks too. I chose their freshly made lemonade which arrived in its own jug with honey to sweeten which was very refreshing on such a warm day. I did need the honey as it was very tart , perhaps not for a sweet tooth, but there was the usual lemonade on the menu as well and I did enjoy it.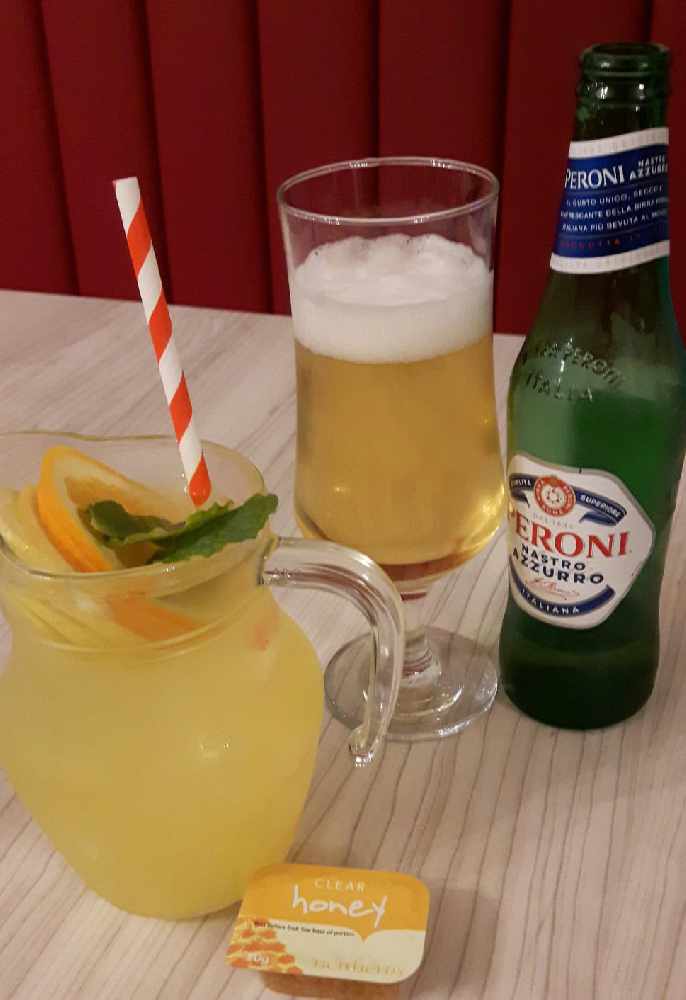 Over all we had a lovely meal and a great experience.
If you haven't been yet then make a reservation or just pop in, there is something for everyone, beautifully cooked and presented, they have just received 5 stars for cleanliness and I can certainly see why!
We will be returning to sample the evening menu - Michael has his eye on the pork belly . A big thank you to Emily and all her staff for a great lunch.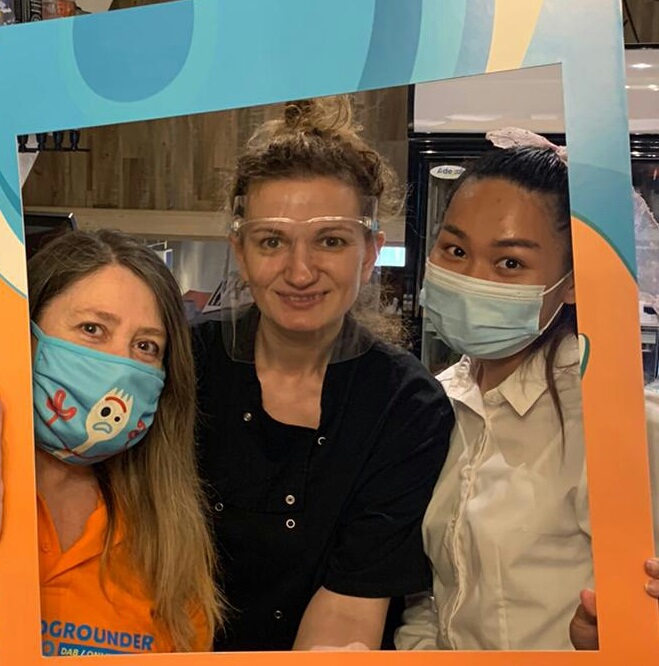 __________________________________________________________________